Use New Method If You Don't Want To Format Your PS3

- Sep 2020
viewtopic.php?f=22&t=471&p=9238#p9238
Original Post:
MGO2 OFW Tutorial

- July 2017
---
YOU MAKE GAME ID HERE = https://savemgo.com/grid/signup
Table of Contents
I.
Requirements
II.
Flashdrive Setup
III.
Restore Backup
IV.
Notes
OFW Downloads
MGS4 North America:
Direct Link
MGS4 Europe:
Direct Link
MGS4 Japan:
Direct Link
MGO Japan:
Direct Link
I. Requirements
To follow this guide, you will need the following:
* A "normal" PS3, which has PSN access
* A disc with MGO data on it (Original, Greatest Hits, or Platinum MGS4, or Japan MGO), newer discs will not work (25th, Legacy), and neither does the Digital Version
* A flashdrive with around 4GB of free space, formatted as FAT32
* A computer (this guide covers Windows 10)
Please note, you will lose 99% of the data on your PS3.
You can backup/restore any of your game saves to/from a flashdrive, and redownload any games you've purchased in the Store.
If you wish to keep all of your data, you will need to wait for a future tutorial.
If you have money to burn, you could also buy a new PS3.
You can check if your flash drive is formatted as FAT32 by right-clicking on it, and clicking on Properties.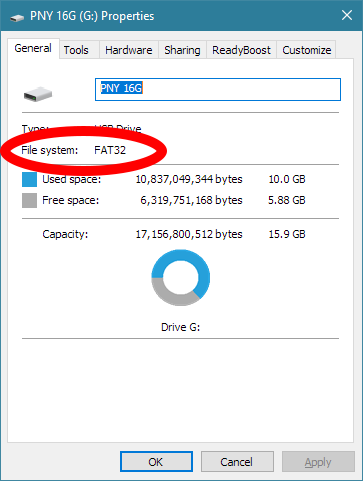 If your flashdrive isn't formatted as FAT32, then it will need to be formatted.
Keep in mind that you will lose all data on your flash drive once you do this. Be sure to copy anything you need off of it.
Be sure to double-check what you are formatting, otherwise you could risk losing data!
You can follow the guide here:
http://www.partition-tool.com/resource/ ... ws-10.html
.
II. Flashdrive Setup
Download the backup, and put it on your flashdrive.
a. Download the backup corresponding to your game disc (
not necessarily the region that you live in
).
b. Extract the backup archive, and copy the PS3
folder
to your flashdrive.
c. Remove your flashdrive from your computer, and plug it in to your PS3.
III. Restore Backup
Restore the backup from your flashdrive.
a. In the XMB, go to System Settings, then Backup Utility.
b. Choose Restore, then Yes.
You may get a warning about copy-protected data not getting restored. Ignore it.
c. After the Restore, start up the game and let it install the game data.
You may get a warning about corrupted game data at this point, ignore it.
-image-
d. Please note:
NEVER DELETE THE GAME DATA!
If you delete the game data, you will lose access to MGO, and will need to Restore the backup once again.
If you have the "Game Data is Corrupted" issue in the future, please check Notes.
d. At this point, you can start up Metal Gear Online as normal.
If you're missing the MGO menu option, or the MGO data was deleted by the game, you have newer disc. You will need to get an older disc (check Requirements).
e. Enjoy.
V. Notes
If you start the game up and it tells you that the "Game Data is Corrupted", it can usually be fixed without much effort.
Quit the Game, re-start up the game. Once you get to the Save Data Notice screen (with Continue X in the bottom-right), quit the game.
Start the game back up and run everything normally. The error should go away.
If you still have the error, then try to go in to Recovery Mode on your PS3. Be careful! Choose Restore File System, and see if that fixes your issues.